Accrokite Koh Phangan, IKO Pro Center has been on the island of Koh Phangan for over 10 years now and we have been building our kitesurf community on Thong Sala Beach at our Resident location at Bodega Hostel.
We offer group courses and individual packages for all levels. Our passionate IKO certified instructors will follow you from your very first steps with a kite to advanced training and intensive courses. 
We are a very sociable community at Accrokite and there is always something going in within our group so you will make lots of new like minded freinds and buddies during your stayat Accrokite Koh Phangan.

We have 2 great locations here at Accrokite Koh Phangan, in winter from November to middle December/January, Chaloklum beach at Wattana resort in the north of the island when the wind is blowing from North.
In the winter we are situated at  Thong Sala Beach at Bodega hostel from middle December / January to end of April / May when the wind is blowing from South-East. In summer we use the same spot in Thong sala beach when the wind is blowing from South-West. 
You can buy or rent gear at affordable rates from our kiteshop at Accrokite IKO Pro Center. Please visit our shop section for more details.  We also have an in-house Kite Repair Services for all your accident and repair needs.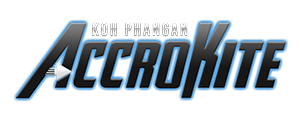 Thong Sala Beach At Bodega Hostel
This is the main spot of Accrokite Koh Phangan, we are there the biggest part of the year.
Chaluklum Beach At Wattana Resort
Flat spot in a lagoon of white sand protected by a coral reaf, clear water 30° all year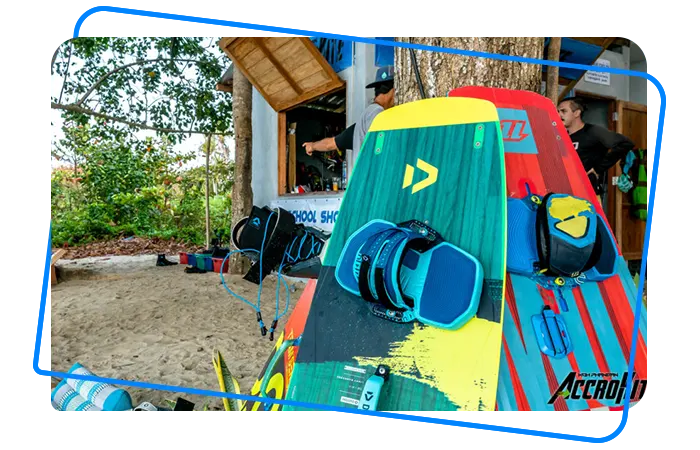 ACCROKITE KITESCHOOL PACKAGES
We offer a wide range of packages to suit your experience and budget. Our instructors are fun loving easy going island residents who take their time to go through the course at your pace. We all speak various langauges and come from around the  world with lots of great experience not only in koh phangan but as far a feild as Brasil, Dominican Republic, Zanzibar, Tulum to name a few.
We offer a chilled experience rathert that a rushed day, giving you the chance to get the experience you need to take the next step in your kite surfing journey at Accrokite Koh Phangan.
Please drop us a quick message if you need more information or would like to know the current discounts available for students at our partner resorts.

Discover kitesurfing, have fun and complete stages of full IKO. Duration is  3 hrs and we always teach in groups of max 3 people.
Discover kitesurfing, have fun and complete stages of full IKO. Duration is 9 hrs – Spread over 3 days (3hrs per day).
We have 3 great Advanced Packages that will get you jumpping for air as well as Strapless Surfboard, Foil Board with Wing Foil Lessons.
Only Professional Equipment
MEET OUR KOH PHANGAN TEAM
second hand kite gear for sale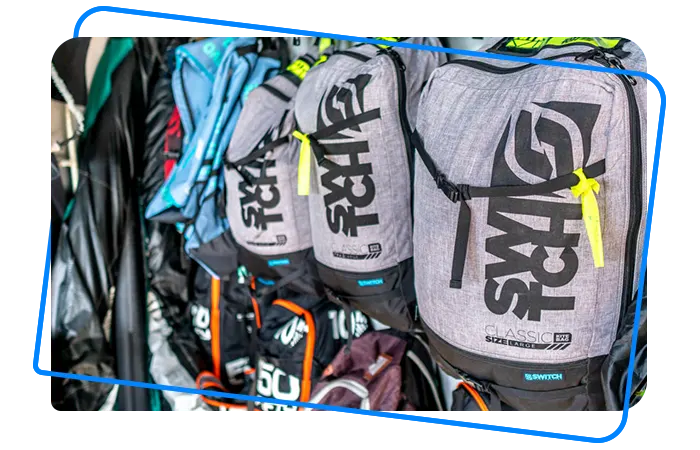 grab a bargin in paradise
Looking for that second kite or just looking to grab a bargain? Check out our second hand kite gear section for all our new offers from our school and also some local kite guys and girls based here on koh phangan. You're welcome to pop past at any time and join our growing community of kitesurf enthusiasts.
Join our mailing list on the bottom of the page for the most up to date offers from Accrokite, keep in the loop with anything we have going on social and kite related!
See You Soon at Accrokite Koh Phangan IKO Pro Center!
What Our Students Say....
Go here! Hands down the tops. I went to another kiteboarding school close to here and switch. It was like night and day. Fat was amazing teacher and riko is great. Highlight of my trip. They are also k iso? Certified so your lessons count towards getting a kiteboarding cert that allows you to rent kites from other shops when completed.
Best teacher on Koh Phangan! Really enjoyed my time on the board there! I can highly recommend that place for Kitesurfing!
I booked a three-day beginners course - a very good decision. the staff is exceptionally friendly and flexible, as a beginner i loved the conditions. strong recommendation!
I did my first rental ever with Accrokite and it was great! They never leave you alone with the equipment, very helpful and felt safe which is most important when you're on your own for the first time.
I have wanted to learn how to kiteboard for a really long time, so I booked a 3 day course with Riko and I loved it! He is a great instructor with the best kiteboarding equipment on the market. He did a perfect job keeping the lesson at my level. I never felt bored, and I also didn't feel overwhelmed. I'm really happy I booked my lesson here.
I have been trying to learn kite surfing for 15 years. after a short course of 2x2 hours I can sail a bit down wind! really good instructions from trainer Rico! Thanks, i can not wait to pick it up in Holland. Thanks for your lessens!! Kind regards Flo
The staff were great very flexible with time and wind conditions - super relaxed fun learning environment everything right on the beach ready to go no time wasted - can strongly recommend. My first day i was up on the board! wow thanks!
It was first time for me and my wife to practice kitesurf. It was marvellous, Ricko gave us an unforgettable lesson. He is great tutor, patient and professional. I definitely recommend the kitesurf to everyone. You all can do it guys and it's worth it!!!
Club tres bien situé. Professeurs très compétents. Matériel très performant. Résultat dès les premières leçons
This was my first experience Kiteboarding and I did the 3-day 6-hour beginner course. I can't imagine a better place to pop my kiteboard cherry. The equipment is top notch. The location is idyllic. The instructors are all amazing. I had Fat as my instructor and he has the perfect mix of patience and experience to maximize my learning experience. By the end of my 6-hr lesson I was comfortable with the kite and riding in both directions. Riko and Antoine are also amazing instructors, I saw them interacting with students throughout my stay and they were happy to have me tag along to several local spots for partying after hours.